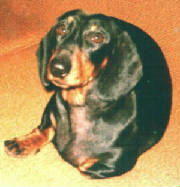 Kaisa von Astral, circa 1976
Brought up on a farm in rural Manitoba, I fell in love with my first dachshund in 1959 and vowed I would "get myself one of those". Skip forward to 1973 and I purchased my first dachshund, Suzie, who was sweet, black & tan, and turned out to be a 13 lb. 'tweenie' I bought from a very nice lady who, when asked if she showed her dachshunds, replied diplomatically, "Well, I've never shown them". Nevertheless, I fell in love with baby Suzie and brought her home. It did not take me long to realize that I definitely did NOT have a show dog !!!! In 1975, I went to a local dog show and met Paula Kellett. She was showing a little black & tan bitch , Kaisa von Astral, who was just six months old. I managed to purchase her and learned the ropes showing poor ol' Kaisa at local shows. By the time I needed only one point to finish her Canadian Championship, I realized that Kaisa really was not what I would call 'Champion' material and decided to breed her. Now the story really begins. Where to find a suitable suitor....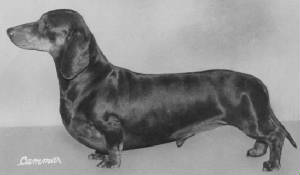 Am Ch Von Relgib's General
I studied pedigrees, books on genetics and contacted breeders from all over the continent. I wrote to such people as Rose Heying of Heying-Teckel fame about the possibility of using her Zahlmeister with Kaisa. I also wrote to Ann Gordon enquiring about her Ch. Jolly Dachs George. I drove to New Bedford, New York and visited with Peggy Westphal of Westphalen fame and saw more red males that were so similar it was hard to tell apart. Although Peggy had beautiful dogs who were sound and all of one type, they were not the type I was looking for. Finally I contacted a lady in Wichita, Kansas, Barbara Gralheer of Bardale fame enquiring about matching my little girl up with her Am. Ch. Von Relgib's General and a lifetime friendship began. The Bardale line was begun by crossing her General with Hainheim bitches. Barbara's mentor was the well-known George Spradling (Hainheim) and Barbara became mine. I bred my first litter and the rest became history as they say. I bred regularly until the late 80's (My last litter was sired by Am. & Can. Ch. Braaehaus Travelling Man).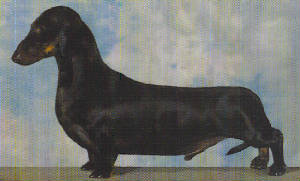 BIS Am Bda Can Int Ch 'Blaze'
Over the years, many of my dogs completed their Championships. None were specialled since my primary love was breeding and genetics. Showing dogs, in my opinion, was only a necessary evil. By the late 80's, I was at a place many breeders find themselves. I had a houseful of geriatrics! That curbed my breeding (carrying more than a dozen 'geriatric' dachshunds in and out in -40 degree weather in Manitoba tends to dampen your enthusiasm for breeding any more, trust me!!!) I was literally 'dogless' from 1992. I relocated to Ontario, Canada as a career move and lived in an apartment for the first time in my life. I felt like a ship without an anchor. In 1996 I contacted Barbara once again and using a bitch from her kennel (Bardale's Wildest Dream) started all over again. Her son, Am. Bda. Can. & International Ch. Vonbernhart's Trailblazer JE (U.S.A. & Canada) was the result. He is the love of my life and a constant source of joy and laughter. Never a dull moment with Blaze around! I am even specialling him on a limited basis - a first for me! He has already sired a couple of litters with a few more anticipated in the next little while and is doing me proud. I will never have the number of dogs I had in the 80's but will carry on breeding on a limited basis.
I hope you like the photos of some of my 'kids' posted on this website. Please check in regularly as it is just recently begun and is still a work in progress. Sign my Guestbook and leave your comments. They are always appreciated. Puppies occasionally. Enquiries for GOOD homes are always welcome.
Bernard Robert,
VONBERNHART KENNEL